Marketing and Sales Services for Home Sellers
Marketing Your Houston Home for Sale
Effectively marketing a property requires timely, expertly honed marketing communications campaigns that maximize exposure until the property sells. During the first few weeks, intense business-to-business and direct marketing promotions to both the real estate community and buying public are initiated—enhanced with "Just Listed" announcements and "Open House" listings.
Strategic advertising buys and placements online and in print publications such as the Houston Chronicle, Houston Business Journal and PaperCity are then added to the marketing mix to create another layer to the campaign.
When feasible, public relations components are also incorporated. The goal is to define an overall marketing communications campaign that drives buyer inquiries, activity and, subsequently, sales; this, in turn, dictates specific media outlets and scheduling.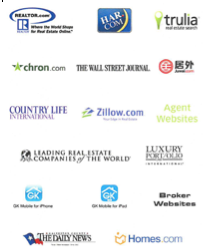 Online: Real Estate Search Engines
In an effort to boost public exposure, all listings should be displayed across the biggest search engines worldwide. Some of the more prominent ones are Har.com. Luxury Portfolio International. Realtor.com, Trulia.com and Zillow.com.
Online: WSJ.com
Wall Street Journal readers have an affinity for purchasing exceptional homes-from stunning country properties to high-end city residences, our readers are willing and able to buy. Compared to the competition. The Journal reaches more: Owners of High End Homes, Multiple Home Owners, Millionaires and multi-millionaires. The Journal delivers an engaged and receptive audience. a pool of influential buyers and sellers along with editorial dominance. The destination for luxury real estate on the web. WSJ.com/ RealEstate offers unbiased reporting on what's happening in residential real estate from changes in interest rates and home prices to design trends.
Advertising your distinctive properties in this environment is an effective way to reach this highly engaged and powerful WSJ audience. Properties within the property database are searchable by location, showcase property photos, include unlimited descriptions and links back to the agent or property specific site.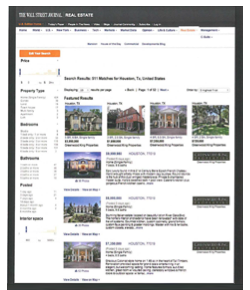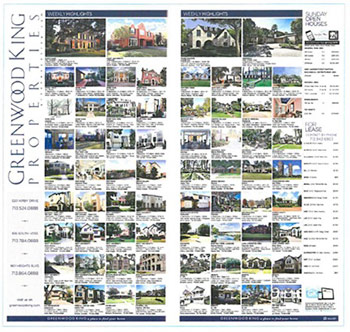 E-Notifications
Notification sent of open houses, new listing, recent price adjustments sent to 3,000 agents and brokers in the Houston area.
Print Advertising
Houston Chronicle – 2 Page Ad, Runs 52 Weeks/Year
Greenwood King Properties' weekly insert has become a highlight of the home section in the Sunday edition of the Houston Chronicle. Its popularity as a mainstay spread mainly because the public was able to quickly identify with the easy-to-read copy and beautifully displayed photographs.
Print Advertising: Houston Business Journal
Placing an ad in the Houston Business Journal is yet another way Greenwood King excels in the marketing of Houston properties. This media mix provides busy business professionals the opportunity to read up on their local news while searching for the perfect home. The clear-cut layout is perfect for a quick scan at lunch or an avid reader on the park-and-ride. Either way, Greenwood King Properties' ads define the best in the industry in an informative manner, so anyone with a busy life can stay abreast of the latest properties to come on the market.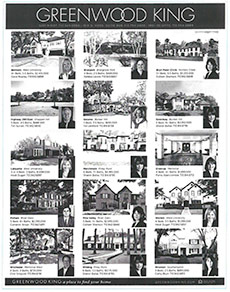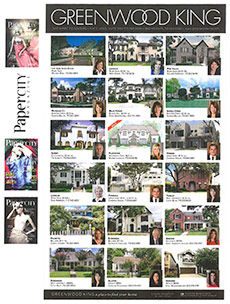 Print Advertising: PaperCity
Additional advertising in PaperCity allows Greenwood King to underscore its industry acknowledgement of "Style & Substance" through its sleek design and modern format.
The quality four-color printing of this high-design publication is one of the few local venues available to feature professional images of GK's select listings and facilities, as well as highlight the founders of the company.
Print Advertising: Houston Modern Luxury
Targeted and distributed to affluent neighborhoods in the Greater Houston Area: These full-color ads target to promote our feature properties.